The SHINE Wao project continues its initiatives for the Madrasah Support in collaboration with DolePhil/WDC on October 14, 2022, in Brgy. Extension covered court, Wao, LDS. The activity was attended by 82 participants from different sectors (BARMM-MBHTE, LGU, PNP, and Madrasah Administrators and Ustaz).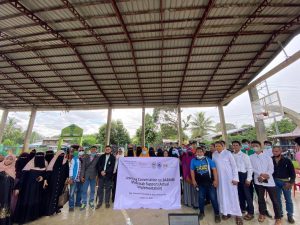 During the session, Prof. Tahir clarifies that the Madrasah School is not just a religious institution as they also teach other subjects the same as other schools.
Certain issues such as the wages of the Ustadz, Madrasah educational system, etc. were raised and were carefully answered by Prof. Tahir.
According to Tahir G. Nalg, Director General of MBHTE, Madrasah schools must be able to comply with all the required documents in order to address various Madrasah schools' concerns; and increase the effective learning and skills to promote the MBHTE standards provision of the Madrasah learning system In Wao.