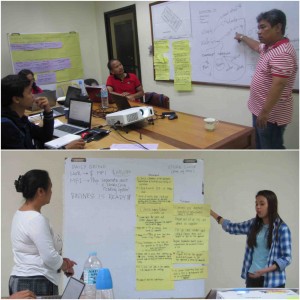 With the aim of making available in every school, affordable fortified bread products, Mahintana Foundation has forged a partnership with the Lutheran World Relief (LWR) to implement the Nutripan Business for Rural Economic and Agriculture Development (BREAD) project. The project seeks to scale up the operation of the Nutripan Bakeshop in Koronadal City and Surallah Municipality to improve access to healthy and nutritious snack foods among children in the schools and communities.
To facilitate the desired targets and outcomes towards the achievement of the goal of the project, the LWR organized a 5-day kick-off meeting with Mahintana's key staff involved in the project on May 15-19, 2017 which took place at MFI conference room.
The process of the meeting involved workshops relating to Budget vs. Actual exercises, Basic Logic, Cost allocation, Procurement of goods and services and supporting documentations.  The meeting also generated considerable inputs from the team on Financial management, Cash Management and Internal Controls, Indicators Tracking Tools (ITT) including Activity Tracking Tools (ATT) which made the training-workshop educative, engaging and participatory. At the same time, there were discussions about various issues and challenges on project implementation such as: Partnership treatment and future engagement, composition of the Project Management Committee, Bakery Management, Income Sharing between MFI and LWR, Cooperation Agreement, Financial Management and Internal Control, among others.
Accordingly, with the active participation and services provided by LWR key staff and management namely, Ms. Femia T. Baldeo, Country Director, Mr. Roderick M. Valones, Program Manager, Mr. Jansen Mayor, RTA M&E,  Ms. Annie Lazaro, RFAM and Mr. JP Maguad, Finance & Admin Manager while working collectively with MFI represented by Mr. Martiniano Magdolot, President & CEO, Ms. Liza Hora, Admin. & Finance Officer, Ms. Yvonne Templonuevo, Project Manager and project officers Mr. Gil Artates and Ms. Ma. Theresa Catalan altogether identified potential solutions to address the major challenges. At the end of the session, the staff were able to formulate and review the tools given by LWR to define goals and deliverables and develop strategies for a successful implementation of the project.
Designed as a social business, the Nutripan project directly contributes to MFI's mission proven to be viable in generating income for the poor farmers and helping build the local economy through taxes paid and employment. It is also consistent with LWR's food security and agriculture core program by its direct contribution to improving both the income of farmers and access of healthy and nutritious foods among children and families.