A Discussion with the Government of the Philippines, Civil Society and International Partners
Mahintana Foundation, with Ms. Liza Duropan-Hora (Executive Director) and Mr. Roel Ian Blanker (Program Manager), participated in a high-level roundtable discussion on October 9, 2023, at New World, Makati, Metro Manila, alongside GCERF, funding donors, government leaders, and fellow grantees from the CBCS, ECOWEB, IDEALS, IID, and Teach Peace Build Peace Movement consortiums.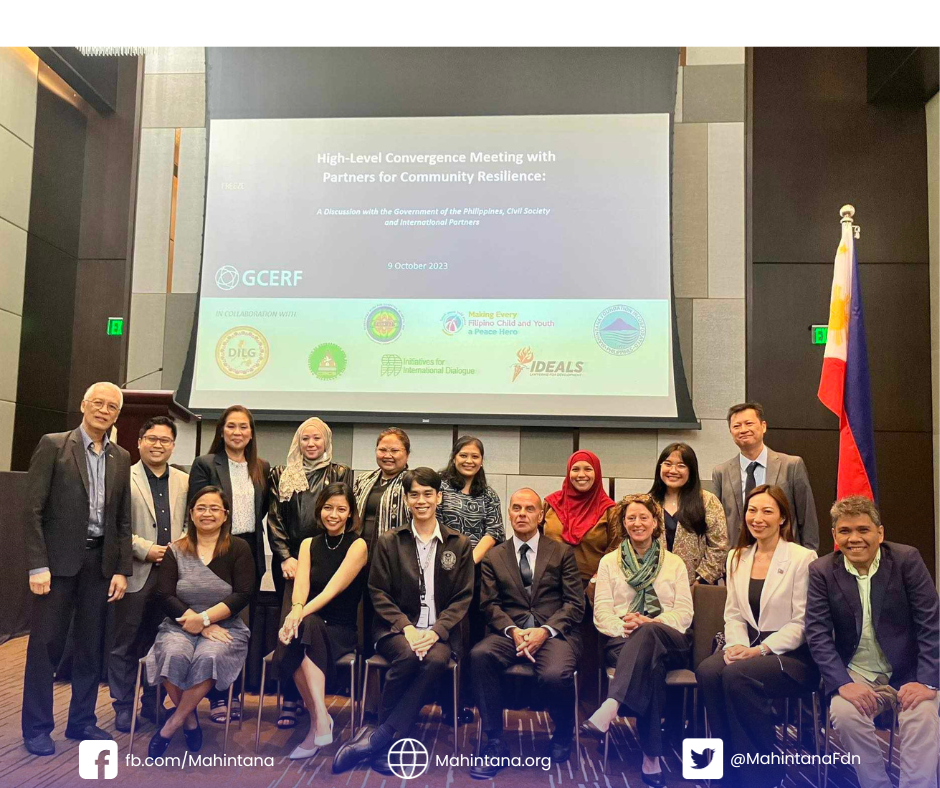 Dr. Khalid Koser, GCERF's Executive Director, skillfully moderated the event, commencing with a video featuring his visit to Marawi City alongside government partners. Grantees showcased their GCERF-funded programs, addressing challenges and interventions in BARMM and Region 12, emphasizing strategies such as transitional justice, information campaigns, peace education, good governance, livelihood initiatives, partnerships, and collaborations.
At the conclusion of the presentations, grantees shared program implementation gaps and suggestions with attending secretaries.
DILG Sec. Benjamin Abalos pledged departmental support for Mahintana's initiatives, particularly recommendations for SBDP-funded/ELCAC projects, and explored incorporating peace education into the Seal of Good Local Governance Award for LGUs in response to TPBPM. DSWD Sec. Rex Gatchalian emphasized the community-driven development function of DSWD. DND Sec. Gibo Teodoro, Jr., recognized the importance of empowering people through private groups like CSOs to address peace and order concerns. During interactions with donors, New Zealand Ambassador H.E. Peter Kell inquired about program effectiveness, impact, and sustainability, to which grantees collectively responded. Dr. Koser concluded the event, commending the Philippine portfolio as a model for PCVEs and expressing gratitude to all participants.
During social and networking opportunities, Mahintana engaged with Ambassador H.E. Peter Kell, exchanged updates with embassy representatives from the EU, Australia, and Japan, and shared community updates with key government officials, including Usec. Atty. Margarita Gutierrez and Asec Gen. Alexander Macario. Copies of the Annual Report 2022 were distributed to select partners.