The Final conference for the SHINE Wao project took place on November 28 and 29, 2022, in Dahilayan Forest Park in Manolo Fortich, Bukidnon. 15 project partners attended the event including the Dolefil, municipal mayor of Wao, Hon. Elvino Balicao, Jr., ITPDC Chairman and secretary, GAD focal person, IP leader, women & youth representatives, and DILG.
The Mahintana Foundation, Inc. and Dolefil SHINE Wao project received a lot of gratitude from the participants, and Mahintana and Dolefil will continue their engagements in Wao on the basis of learning about each participant's experiences. Hearing that LGU will continue the SHINE Wao engagements even if the project is about to end makes Mahintana very pleased; with that, MFI promised that their collaboration with LGU would continue.
The Manobo tribe's tribal chief, Bae Edwinda Sarmiento, acknowledged that prior to partnering with various organizations, she was unable to speak Tagalog and was extremely shy, but participating in various forums has helped her. Moreover, the partnership with Mahintana through the SHINE Wao project allows her to empower the Indigenous People in their community. The platform enables IP in their community to get involved in projects that promoted their culture.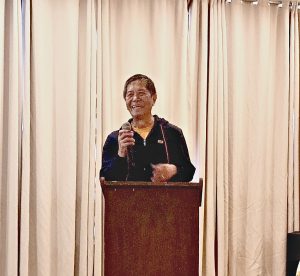 The ITPDC secretary, Mr. Antonio Padilla, expresses his sincere gratitude to Mahintana for allowing them to participate in the SHINE Wao project. Before they partnered with the SHINE Wao project, their council had not been fully introduced to society. The support of Mahintana was recently used for an ITPDC advocacy campaign. The council was successful in highlighting its advocacy work to the public and emphasizing that it has developmental initiatives in addition to being a conflict-resolution organization.
Dr. Alvarez of the Municipal Health Office remarked that she felt fortunate to have been invited to this meeting. She learned about the Polomolok teen center from a recent project activity, and she decided it would be a good idea to conduct benchmarking there since it would help them establish a teen center in Wao. She hopes Mahintana will help them when it comes to starting a teen center and other health-related initiatives in Wao.
Also grateful for the invitation to this event is Councilor Abas. He recalls his involvement in the project and the Kobotoolbox training, during which he had learned how to use the Kobo app. He is very satisfied with how simple it is to use the Kobotoolbox app and how the questionnaire can be manually edited whenever they want to add or remove questions.
Ms. Bella Bobadilla, the Municipal Planning and Development Officer, also emphasized the advantages of using the Kobotoolbox and went through the training with her staff. She's very supportive in all planning and development-related SHINE Wao activities because she had witnessed the project's activities' success. She was also pleased because, in addition to being simple to use, the kobotoolbox app allows them to manually edit their own questionnaire. As a result, they were able to gather data more easily and effectively thanks to the application, and they can now provide updated data.
Youth representative Mr. Milven Sarmiento thanked Mahintana for the series of events held for the youth, particularly for the IP youth in their community. As he wanted to preserve their culture by teaching the youth about IP culture, and with the assistance of Mahintana Foundation, Inc., through the SHINE Wao project; a Cultural Master's Training was successfully held on November 19–20, 2022.
Such training has been developed and included in their action plan from the learning sessions and peer education on well-being conducted last April 28-29, 2022. The SHINE Wao team also expressed gratitude to Mr. Milven for his tireless efforts on behalf of every project-related youth activity.
GAD focal person, Mrs. Emilita Balicao, is grateful to Mahintana for funding women's initiatives in Wao through the SHINE Wao project. She mentioned the time when the project provided meals and snacks for their activity and the budget designated for their meals and snacks was then used to fund their additional lettuce seedlings. She looks forward to continuing her partnership with Mahintana and hopes that the activity she is conducting for women will become sustainable.
Mr. Blanker expressed his gratitude for the development of their strategic plan in particular. He emphasized that Mahintana and Dolefil would prefer to be developmental in perspective rather than simply supporting or establishing an organization because of any conflicts or issues. Both groups have a dual focus on opportunities for development as well as peace and order. The project aims to support the ITPDC's strategic plan for this reason because it may also identify opportunities for quality improvement, particularly given that the council is made up of tri-people.
Despite the fact that this was Mrs. Leovic Bobadilla's first time speaking in front of a crowd, she overcame her hesitations and talked about her involvement in the project; particularly the training workshop on disaster risk response. She claimed that this training gave them more information about how to handle disasters.
Because of the knowledge they gained from the training, misconceptions about how they had previously responded to a disaster were corrected. She appreciates that the project included women in the training because it allowed them to become some of the significant individuals who could assist in the event of a disaster.
Mrs. Analie Tropico, the DILG representative, expressed her thoughts about the project. Mrs. Tropico is the mother of Mr. Steven Joh Tropico, project officer for SHINE Wao. She admitted that she initially had her doubts about her son's ability to handle and carry out the project.  Despite all the difficulties her son had to overcome, she came to the realization that he could actually complete the project as she saw how well he was doing with the community and how closely the project was connected to it.
Honorable Mayor Elvino Balicao Jr. concluded by thanking Mahintana for helping the municipality of Wao with the SHINE Wao project, emphasizing how the project truly takes a holistic and sectoral approach to strengthen the sectoral groups in Wao (Women, Youth, IP, ITPDC, Madrasah). As they have witnessed the project's success and impact on the community, they pledged to continue the interventions in each sector the project has already begun.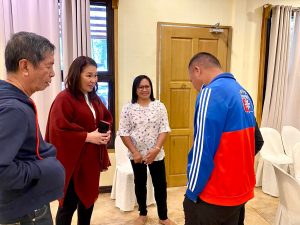 Ms. Liza D. Hora, executive director of the Mahintana Foundation, Inc., expressed her gratitude to the project's partners and expressed her happiness at attending the event. She claimed that only a small number of CSOs engage in community development and that the partners' testimonies and feedback had moved her. She also emphasized Dolefil, which is MFI's parent organization and is crucial to MFI's existence and the implementation of the initiative in Wao.