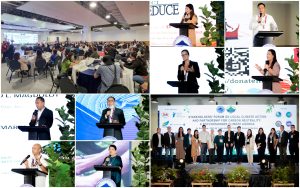 As global greenhouse gas emissions and climate change worsen, the risk of severe droughts, intense typhoons and floods impacting our lives and livelihoods/business increases.  The urgency of mitigating climate change has never been more apparent. All sectors of society must contribute to solve this global crisis, including forging collaborative pathways for a decarbonized and regenerative future.
With this, in celebration of the Global Warming and Climate Change Consciousness Week, Environmental Awareness and Clean Air Month, the 45th founding anniversary of the foundation, and the 7th year anniversary of the Ridge-to-Reef (R2R) Program, Mahintana Foundation, Inc., under its Environment/DRR-CCA/Renewable Energy Program, has successfully conducted a Stakeholders' Forum on Local Climate Action and Partnership for Carbon Neutrality on 24 November 2022 at SM Trade Hall 2 of SM City of General Santos, General Santos City and a 3-day exhibits of products and services/programs of partners towards carbon neutrality and environmental sustainability on 24-26 November 2022 at the Event Center of SM City General Santos, including support activities such as TedTalk, Photo Contest, Zumba for a cause, etc.
The said events were conducted with the financial and technical support of Dole Philippines, Inc., Peace & Equity Foundation, Foundation for the Philippine Environment, SM City of General Santos, Coca-Cola Foundation, SPECTRUM, Energy Development Corporation, and Philippine Long Distance Telephone, Co. (PLDT) and the partnership with the Department of the Environment and Natural Resources (DENR), Climate Change Commission (CCC), and the Local Government Units of South Cotabato, General Santos City, Polomolok, Tupi, T'boli and Malungon whether as resource organizations for the events or partners in the implementation of the Ridge-to-Reef Program.
The objectives of the said events were aimed at:
Informing the stakeholders in SOCCSKSAR- GEN area (private/business companies, LGUs, RLAs, CSOs/NGOs/ POs/coops, academe, media and farming communities) on the current climate situations/crises and existing and emerging climate action/initiatives at the national and local levels;
Facilitating the sharing of experiences, discussions and commitments among the stakeholders towards collaborative engagement/ partnership for carbon neutrality and environmental sustainability;
Gathering perspectives on how climate action/green solutions/initiatives can be accessed, adopted and scaled up in SOCCSKSARGEN area;
Developing a documented output which will serve as an input/ reference to the preparation/formulation of the climate action/carbon neutrality action plans of interested private/business companies/CSOs/academe and the review/ updating of the Local Climate Change Action Plans/Agenda of the respective LGUs in SOCCSKSARGEN area; and
Showcasing/exhibiting the products and services of partner/farmer organizations whose products and services are a result of doing or working towards smart/regenerative agriculture, agroforestry, reforestation, ridge-to-reef riverbank rehabilitation, renewable energy (PURE processing), climate financing, etc.
At least 200 participants from the private/business sector, local government units, national and regional line agencies, civil society organizations (including NGOs/POs/cooperatives, civic groups), academe, media/vloggers/bloggers and farming communities participated in the Stakeholders' Forum and the exhibits/support activities.
Gracing the stakeholders' forum as resource persons, providing their time and expertise, include
Jose Orlando "Odyok" Acharon, City Councilor of Gen. Santos City, who welcomed the participants and guests and provided the city local climate actions and direction;
Martiniano L. Magdolot, President of Mahintana Foundation, Inc., who provided the opening remark highlighting the need for partnership toward carbon neutrality and environmental sustainability;
Jobe C. Tubigon, Operations Manager of Mahintana Foundation, Inc. who provided the rationale and forum overview highlighting the need to act now as climate disasters are here and already worse than expected (given the rising carbon emissions and deforestation rate);
Romell Antonio Cuenca of Climate Change Commission, who shared about the Global and Philippine GHG/CO2 Emissions, Climate Impacts & Climate Action/Initiatives Towards Carbon Neutrality/Net Zero Emissions;
EnP/RF Gabriel Baute, Regional Climate Change and RBCO Focal Person of DENR12, who shared the Priority Programs of DENR Towards Carbon Neutrality/ Net Zero Carbon and Environmental Sustainability;
Allan Marcilla, CENRO of General Santos City, who shared the Green/Smart City Initiatives/Priorities/Experience of General Santos City towards Environmental Sustainability;
Myrissa Lepetin-Tabao, Head of Corporate Relations of Mt. Apo Geothermal Project of the Energy Development Corporation, who shared the Experiences, Challenges and Prospects for Collaboration/Scaling-up of the Net Zero Carbon Alliance (NZCA);
Roberto Calingo, Executive Director of Peace & Equity Foundation, who presented (in video presentation) the PEF Experiences and Priorities on Climate Financing and Support to Productive Uses of Renewable Energy for Resilient Social Enterprises;
Reggie Mae Bogador, Provincial Coordinator of SPECTRUM, who shared the The i/e-REDUCE Project Experience as Waste Management Initiatives for Climate Change Mitigation;
Jerome Montemayor, Executive Director of the Foundation for the Philippine Environment, who presented FPE's National and Regional Environmental Agenda and Grants Focus on Climate Change, Disaster Risk Reduction and Renewable Energy, including priority program on Youth for Biodiversity;
Barbara Guerpillon, Senior Director, Dole Ventures/Sustainability of Dole Packaged Foods, Singapore, who shared the Dole Promise/Ambition at the global perspective, including Funding Mechanism to Support Strategic Innovation and Sustainability Partnerships;
Reynaldo Doria, Vice President & Managing Director of Dole Philippines, Inc., who shared the local context of the Dole Sustainability Promise/Experience/Initiatives Towards Carbon Neutrality in Business Operations (Agriculture, Energy, Transport, Environment/ R2R/ GTP/Restor); and
Liza D. Hora, Executive Director of Mahintana, who presented the Call For Action/ Dragon Pay Launch as donation portal/Pledging of Support/Commitment and the closing remark highlighting that despite the initial gains, a lot has to be done and the need for continued support from various stakeholders is needed to ensure environmental sustainability and collective impact.
On the 3-day exhibits, at least 20 local partners (15 booths) showcased their products and services which are a result of doing or working towards smart/regenerative agriculture, agroforestry, reforestation, ridge-to-reef riverbank rehabilitation, renewable energy (PURE processing), climate financing, etc. These include PLDT, SPECTRUM/Coca-Coca Foundation/CENRO-GenSan, Landan People's Multipurpose Cooperative, Sultan Kudarat PURE/Coffee Producers, Peace and Equity Foundation, Mahintana Foundation, Inc., Dole Philippines, Inc., Happy Cow's Milk by Unified Engineering, Greentropics Coffee Enterprise, PSN Farms by Polo SN Multipurpose Cooperative, South Farms by Tibud sa Katibawasan Multipurpose Cooperative, and BJMP Malapatan District Jail.