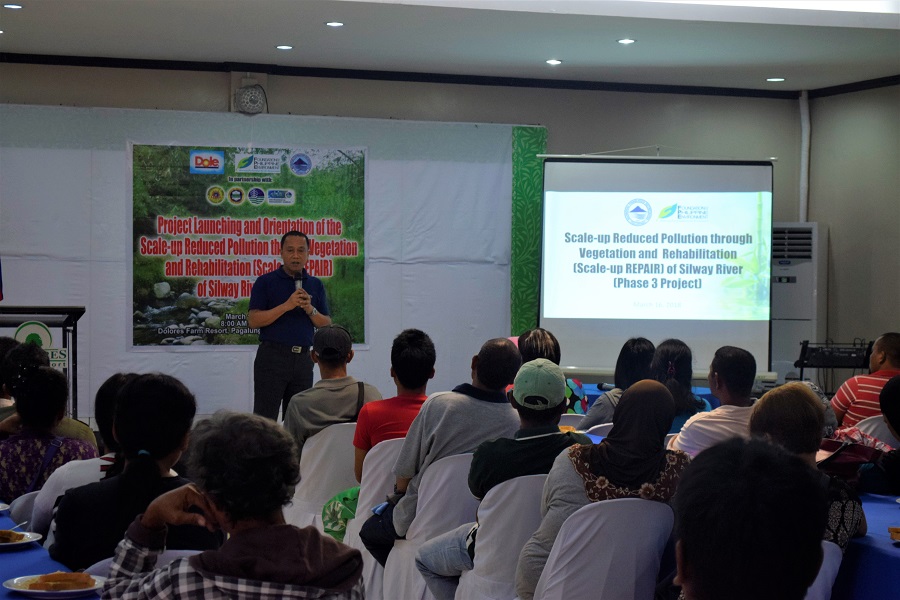 Mahintana Foundation Inc. (MFI) launched the Scale-up Reduced Pollution through Vegetation and Rehabilitation (Scale-up RePAIR) Project at Dolores Farm Resort, Polomolok, South Cotabato on March 16, 2018. The project launching and orientation was attended and participated by 52 participants coming from Polomolok and Tboli Local Government Unit, Barangay Officials, concerned government agencies and community farmer partners.
Ms. Ella Mae M. Babao, Project Coordinator, presented the activity overview and the key roles of the participants in the project implementation. PENRO-SC representative Mr. Wahid Amella expressed his gratitude and appreciated Mahintana as its partner in environmental protection and other initiatives. He encouraged the project beneficiaries to be responsible and to support the project and other Mahintana programs. MFI President & CEO Mr. Martiniano L. Magdolot explained the brief background of the project and the Foundation for Philippine Environment as funding donor of the project.  Ms. Babao then briefly discussed the project background, description, objectives, overall strategies, planting design and sustainability of the project. An open forum and project feedbacking followed facilitated by Ms. Maria Theresa B. Catalan.
Mr. Eupee Abedin of MENRO-Polomolok and EMB XII representative Mr. Izar Jesson Claudio gave their messages of support to the project. Mr. Claudio acknowledged the effort of Mahintana in promoting the environmental protection and assured and committed to support the project through conducting of water sampling and monitoring of the water quality of the Silway River and help support the farmer-partners through capacity building.
The Scale-up RePAIR of Silway River (Phase 3) project is a P2,000,000.00 worth – one (1)-year project funded by the Foundation for the Philippine Environment (FPE) implemented by Mahintana Foundation Inc. The project seeks to help reduce the water pollution and rehabilitate the Silway River System/Watershed of Barangays Lumakil, Rubber, Polomolok and Basag, T'boli, South Cotabato through strategies on Riverbank Vegetation Enhancement, Food Access and Alternative Livelihood Options and Policy and Environmental Advocacy.