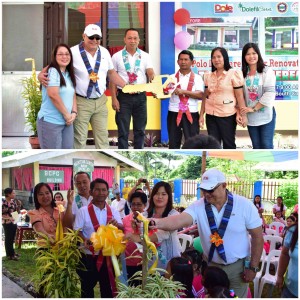 Dole Philippines, Inc. partnered with Mahintana Foundation, Inc. for the renovation of the Polo Day Care Center building to make it a conducive place for learning for the preschool aged children. On September 5, 2017, the turnover ceremony and the blessing of the school building took place graced by Mr. Randolph I. Fleming, Dolefil's VP and Managing Director; Mr. Martiniano L. Magdolot, Mahintana's President & CEO; Hon. Ariston P. Leoberas Jr., Brgy. Captain; and Ms. Glanica Manguiguilid, MSWDO. Also present to witness the ceremonial turnover were the parents of the pupils, teachers and barangay officials. Over 50 pupils enrolled in the day care center will benefit from the project.
Hon. Leoberas opened up the ceremony with a brief message of thanks and acknowledged the concerted efforts of Dolefil and Mahintana for the successful completion of the project.
A message of support was given by Mr. Fleming conveying the importance of providing a comfortable environment to stimulate student learning. According to him, students learn better when they view the learning atmosphere as positive and supportive.
In closing, Ms. Flordeliz Jugar, the teacher in-charge, expressed her overwhelming joy and gratitude. "We are privileged to be chosen as a beneficiary of this project so in return, we will take responsibility to keep it safe and useful for the children in our community," she said.   In her message, she also emphasized the need to maintain the building's spic and span and provide quality educational materials for the children.
In addition, the school will be receiving kiddie chairs and table package which will be donated by Dole Philippines, Inc. Its facilities will also be improved which include the fabrication and installation of grills and whiteboard and renovation of the kitchen area and comfort room.