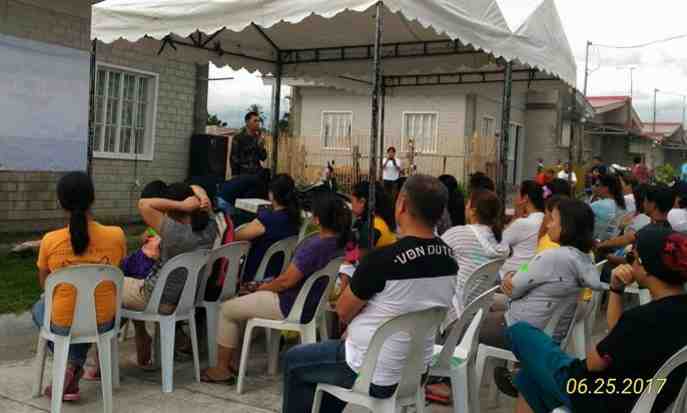 The Dole Gawad Pag-ibig (DGP) Homeowners Association (DGPHA) in coordination with Mahintana Foundation, Inc. (MFI), Barangay Local Government Unit (BLGU) of Cannery Site and Philippine National Police (PNP) conducted the Barangay Peacekeeping Action Team (BPAT) Seminar on June 25, 2017 at Dole Gawad Pag-ibig Subdivision to improve community security by promoting peace, order and safety.
PO3 Jonathan Boiser from PNP-Polomolok discussed the importance of organizing Barangay Peacekeeping Action Teams (BPATs) who play significant roles when it comes to maintaining peace and security in the community. He also explained the roles and responsibilities of every individual in peace keeping operations as well as policies involved for effective prevention and control of crimes and to empower the DGP community in building trust while maintaining tranquility in their surroundings.
Afterwards, Ms.  Mavic Macailing, Violence Against Women and Children in-charge, lectured on various livelihood programs for women especially to those who are full-time housewives, not only to provide better opportunities but also explore their capabilities and discovering ways where they can be scaled up and contribute to economic empowerment.
Around 120 participants attended the activity composed of DGP beneficiaries and dependents, PNP-Polomolok and BLGU staff and officials. In attendance were Hon. Kagawad Benvienido Baroman; Hon. Kagawad Noel Sapurno; Mr. Noel Tesipao, Task Force on Youth Development representative; Mr. Dave Sorioso, Coordinator of Women's Organization; Ms. Evangeline Loy; and Barangay Focal Persons in Disaster Risk Management and Solid Waste.