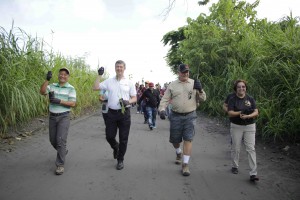 In celebration of the 50th Foundation Anniversary of Howard Hubbard Memorial Hospital (HHMH), a Tree Growing activity was conducted  on June 10, 2017 at the 1.3 km gully in Polomolok, South Cotabato, an area adopted by HHMH in partnership with the Ridge-to-Reef Program. The activity was graced by a planting ritual dance performed by Landan National High School. Over 150 participants coming from HHMH management and staff, Dolefil VIPs, Mahintana, and LGU representatives joined in the effort to preserve and nurture nature for the benefit of the next generations.
Trekking to the planting site was led by Dole Packaged Foods Asia President, Mr. Shawn Warren together with Dolefil's Vice President and Managing Director, Mr. Randolph Fleming. The participants planted a total of 1,000 bamboos and 1,500 forest trees.
As support to the Ridge-to-Reef Program, Mahintana received a 10,000 USD check from MacEwen Falconer and Co., an international food distributor and Dolefil's partner based in Scotland, UK.