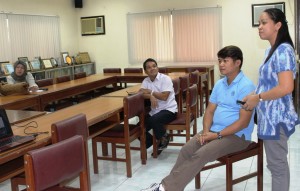 With the extensive implementation of its programs and projects under the Basic Social Services and  Disaster Risk Reduction and Management covering almost the entire  SoCCSKSarGen (South Cotabato, Cotabato Province, Sultan Kudarat, Sarangani Province and General Santos  City) Region, Mahintana Foundation, Inc. submitted itself for accreditation as a social welfare and development agency (SWDA) , a process facilitated by the Standards Bureau of the Department of Social Welfare and Development Central Office. The accreditation process follows DSWD Administrative Order No. 1 7 series of 2008 "Rules and Regulations on the Registration and Licensing of Social Welfare and Development Agencies and Accreditation of Social Welfare and Development Programs and Services" which regulates and enforces social welfare and development standards to both public and private organizations in the country that engage in social welfare and development activities; and Republic Act 4373 "An Act to regulate the Practice of Social Work and the Operation of Social Work Agencies in the Philippines and for other Purposes.

Initial assessment of documents and field visit was conducted by personnel from both the  standards and programs section of DSWD Field office XII on September 19, 2014. Their initial assessment became  the basis of the assessment areas reviewed by Mr. Leopoldo H. Tolentino Jr. of the DSWD- Central Office Standards Bureau during his visit on September 24-25, 2014. He went over the institutional manual of operations and programs and projects manual, compliance documents  and annual reports and also conducted a site visit at the Barangay Cannery Site Community Nursery, de Castro Day Care Center  and at Sumbakil Multi Purpose Cooperative to validate the interventions extended by Mahintana. An FDG was also conducted with programs staff to assess and validate program/project accomplishments.
During the exit conference, Mr. Tolentino  commended  MFI for complying with the documentary  and operations requirements set by the government  and for complementing government assistance to communities  "par excellence" . He also congratulated MFI stating that it is not often that an applicant for accreditation get the nod of the validating team immediately after the visit as is the case of MFI. Further, he informed that although his announcement is final, it will only be official when  MFI receives a   written confirmation from the Standards Bureau and is scheduled to receive the certification from the Regional Office a month later.