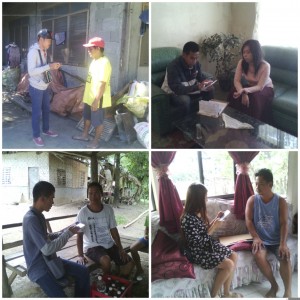 The Municipalities of Aleosan and Libungan, Cotabato conducted the Citizen Satisfaction Index Survey (CSIS) on January 21-25, 2016 and January 23-28, 2016 respectively. The enumerators (15 in Libungan and 10 in Aleosan) surveyed respondents based on random sampling to ensure that everyone is represented in the survey regardless of gender, social status, belief and race. The survey was aimed at collecting and generating relevant citizen's feedback on local government's service delivery performance and on the citizen's general satisfaction.
The enumerators collected primary data through face-to-face household surveys (in at least 150 respondents in 19 barangays for Aleosan and 150 respondents in 20 cluster barangays in Libungan). The respondents were male and female, 18 years old and above and residents in the said municipalities for at least six months. The citizens' level of awareness, availment and satisfaction in the 8 areas (health, basic education, social welfare, governance and response, public works and infrastructure, environmental management, agriculture and tourism) were measured during the interview.
The survey was made possible through the EU-funded RESOURCEGov project implemented by Mahintana Foundation, Inc. The CSIS data collected will help the LGUs as well as other stakeholders in determining appropriate interventions, programs and projects to further improve local service delivery to its people.